Here is a video of all of the best footage I filmed on our trip. I think it is a pretty good representation of our tour:

Germany
As soon as we hit Germany,  our casual European vacation turned into a full-on, epic rock tour. Dredg are heroes in Germany, and every night we played to over 1000 people. This was definitely the biggest week in Judgement Day's life so far, and it went incredibly well. For all of the German shows we were also joined by another cool band called The Parlor Mob, from New Jersey. They fit perfectly into the bill with excellent musicianship and a sound vaguely reminiscent of classic Led Zeppelin. They seemed to be excited about our band as well. Their sound engineer Tony liked us so much that he ended up doing our sound for free, which made a huge difference for us.
The Prank
A few days before our show in Berlin, Dredg got a memo from the Berlin police department saying that they were looking for "Dradg" for questioning about some "property damage".  Everyone in the band got really paranoid, so Drew Roulette (bass player) came up with a brilliant prank:
On the night of the Berlin show, he hired 2 actors to dress up like German police, come on stage in the middle of the set and arrest Gavin and Dino (singer and drummer)! It worked perfectly: Gavin and Dino were scared shitless!
Drew wanted all of the fans to think that the arrest was real for the first few days, so after the show we posted this video, which cuts off just before the prank is revealed: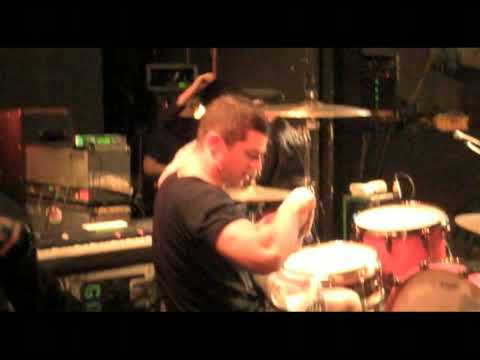 Three days later we posted the full, uncut version: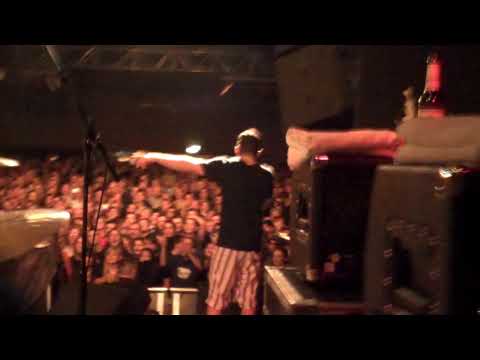 Last Three Shows
Our last big German show was in Hamburg, which is a total party town. It's kind of like the German Las Vegas: there are tons of bars and clubs, and gambling and prostitution are legal. There are transvestites and prostitutes walking around everywhere and sometimes they try to grab you. Lewis, Drew and I walked down the main prostitute street to check out the craziness and it was interesting. The clubs in Hamburg stay open all night so we celebrated our tour properly, drinking and dancing until 5am.
Two days later we played in Christiania, an anarchist commune town in the middle of Copenhagen where drugs are legal. The club there was awesome. It looked like a viking tavern – totally metal. The crowd was small so we decided it would be a good opportunity to practice for the Dark Opus 5th Anniversary show. We played Dark Opus all of the way through and it went way better than any of us thought it would. We got an awesome review from that show; one of the best live reviews we've ever gotten. You can read it here but it might give away a couple of surprises for this Thursday's show.
The last show was in London, a city that I love. We played one of our best sets of the tour and the next day we flew home.
Summing it all up…
My friend let me borrow a Flip video camera for this trip, and I did my best to film cool stuff with it. I edited all of the footage together into a music video that I think sums up our tour well. Here it is – my official Dark Opus video for Pitfires of Hell: